Environments.
Attention to detail, to experience an unforgettable emotion.
A romantic dinner, a business lunch or the pleasure of enjoying delicacies: every occasion is good to be pampered at Osteria a Le Due Spade in Trento, where details contribute to making your visit unforgettable.
Evocative ambiance, friendly and attentive service, sublime cuisine.
A balance that is achieved after years of work and passion and that makes us proud to host you to share with you the pleasure of conviviality.
Nearly 500 years of catering in the heart of Trento.
A Trentino document of the time, written by an anonymous hand, tells, referring to Cardinal Gonzaga's secretary:
"On the ante-eve of Santa Lucia I came to Trent, and at the hotel of the Two Swords I dismounted. Evvi an innkeeper of good air, affable and agreeably discreet, and if he did not fear his wife, he would be a better companion than he is."
Today as then: timeless charm
Over the centuries, the quality in hospitality, food and ambiance has remained unchanged.
Upon entering, one is immediately enveloped by a small stube made of blond pine wood, originating in the 1700s, with eight elegantly prepared tables and an antique stove made of green majolica from the Non Valley.
A barrel-vaulted ceiling from the 1500s completes the atmosphere, creating an ambiance of timeless charm, now enshrined as a temple of reference for excellent Trentino cuisine.
In the summertime, a stone's throw from Trento's magnificent Piazza Duomo, there is the possibility of eating outside in an elegant outdoor dining area.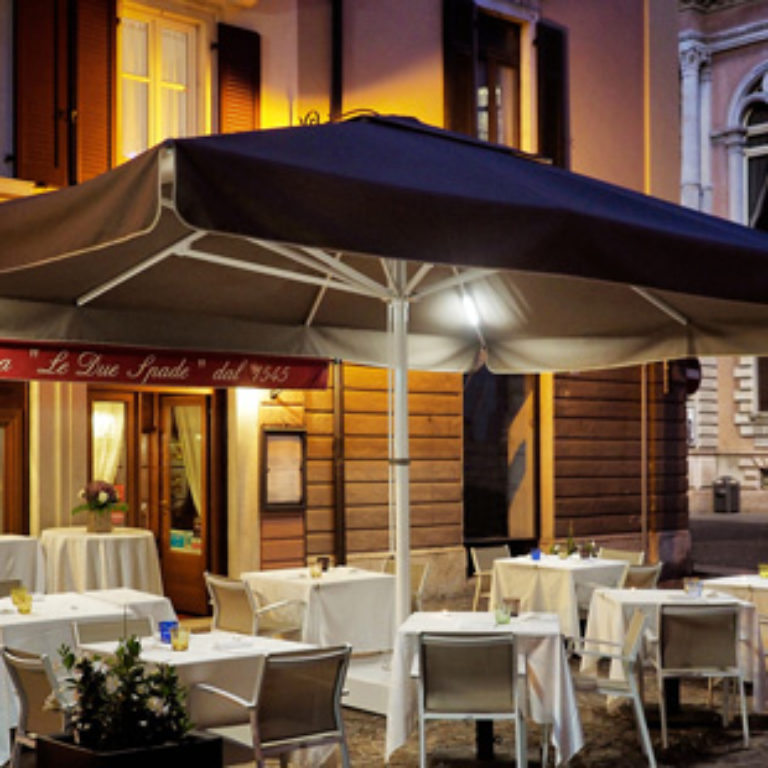 Our long history in catering
Over the centuries, numerous innkeepers have brought the magic of the Osteria at Le Due Spade in Trent to life.
As we know it today, it is the fruit of the work of the Peterlana family, who masterfully ran the restaurant for 40 years.
In 2021 the handover: today the Antica Osteria a le Due Spade hosts our project of wanting to share with our guests the pleasure and love that good food and attentive hospitality can offer when you work at it with passion and care.
YOU ARE WELCOME!